BSC Show
[ezcol_1third]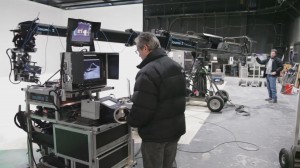 [/ezcol_1third][ezcol_2third_end]We are proud to announce that we will be demonstrating on the Louma2 stand at the BSC Expo – Pinewood Studios on the 30th & 31st January 2015.
[/ezcol_2third_end]
Virtual Studio
Why wait for post production to fill in the blanks? See a real-time representation of your end result live on set.
As you will see from the demo video above – there would be no way to create the camera move on the aircraft without having a real-time live 3D representation on-set. We are blending a number of different technologies to enable camera operators, DOPs, director and cast to interact with the virtual elements as they shoot their real footage.
From simple set extensions, to being chased by a dinosaur, seeing the entire picture at the time of shooting is essential in the modern production pipeline.
Come along to the show to see for yourself real-time virtual studio camera tracking on a 32ft crane with almost no latency running on just a simple laptop. It just works.
Bendy Cranes!
The Louma2 crane is one of the most stable rigs on the market – however – like all cranes there is a certain amount of mechanical beam bending that happens as the arm is extended. This is just simple physics – the weight of the camera package makes the arm droop very slightly – the longer the arm – the more the droop.
Louma and Take4D engineers have been working together on this problem and are proud to announce for the first time ever that this bending effect can be eliminated from the camera tracking data. The real-time 3D CGI image will lock to the actual footage at any arm length since Take4D compensates for this bending effect. No matter what you do with the crane – the virtual camera will always match the real camera.
Real Time Motion Capture Integration
It doesn't stop at just planes and dinosaurs. We can also include real time performance capture into the camera tracking: