Take4D Virtual Production Studio
Take4D Virtual Production Studio is a live video compositing, camera tracking, motion control and motion capture system build from the ground up over 25 years specifically for the entertainments industry.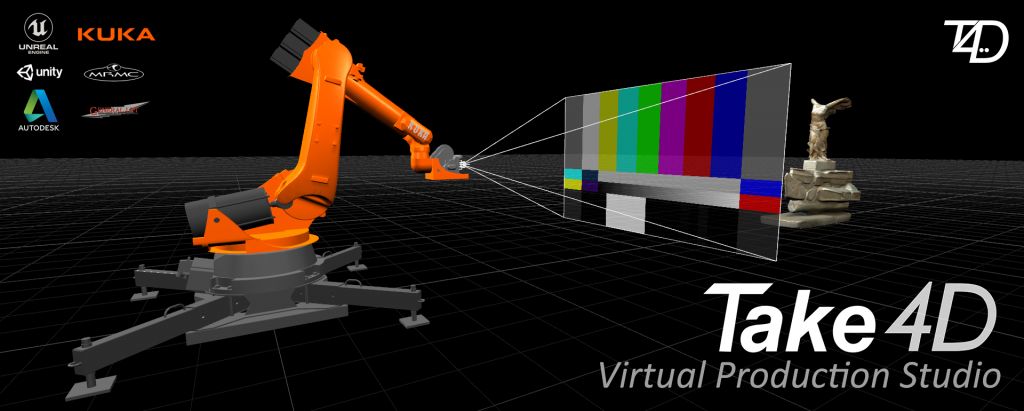 It has been used for many very well know Hollywood and televisual projects features such as Disney's "Aladdin", "Game of Thrones", "Harry Potter", "Assassin's Creed", "Angels & Demons", "Hansel & Gretel: Witch Hunter", and many more. It integrates live action with advanced cinematography techniques to creature ground breaking effects. Live streaming of data into Unreal Engine (UE4), Unity, MotionBuilder and more.
Direction, Management & Consultation
Project Management
Visual Effects 
Virtual Production 
Motion Control 
Motion Capture 
Asset Creation & Optimisation


Maya
3DS Max
Blender
Unreal Engine
Unity
Motion Builder

Camera Tracking
On-Set Real Time Rendering
Motion Control
Motion Capture
Model Movers / Ride Systems / Flight Simulators
We utilise a wide range of technologies to give Directors and Cinematographers the tools needed to stay ahead of audience expectations. With a blend of artistic and industrial engineering, we sit firmly between three worlds… "practical cinematography", "CGI" and "creative visualisation".