---
Camera-Work That Work In The Real World
---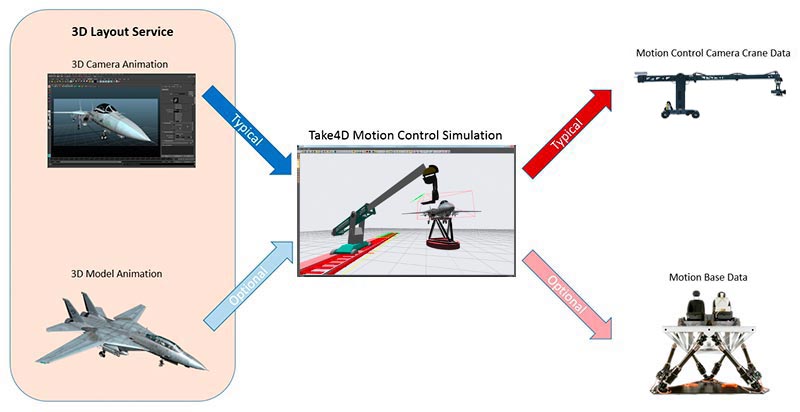 Benefits
Camera and Model moves that will work in the real world!
Save time and money knowing the Pre-Visualisation is shootable including on-set changes
Plan on-set physical layout and logistics
Reduce downtime on-set
Features
Analysed and conformed against real world rigs / platforms
Input from:

2D Plate Tracking
3D Key-Frame Animation / Previz
Other Motion Control Rigs

Accurate camera packs
We provide motion control rental services including the conversion of 3D camera and model moves to robotic control systems (and visa versa).
We are partnered world-wide  with a number of third party companies for the equipment supply and operation.  Call for more information.
Our product, Take4D Virtual Studio, contains the worlds most comprehensive set of tools for the development of complex motion control movements; enabling us to pre-plan shots in advance and walk on-set in full confidence that every move will run first time time.
Take4D VS has the fastest more accurate bi-directional solver available on the market capable of accurately replicating ANY rig chain, including:

Motion Control & Motion Base Tutorial
Unreal Engine
Unity
Autodesk – Maya / 3DS Max / MotionBuilder
Lightwave
Cinema4D
Houdini
3D Equalizer
PFTrack
Synth Eyes
Nuke X
Moca
Boujou
IXIR
more…
Mark Roberts – Flair
General Lift / Sorensen / EncodaCam / Kuper
SuperTechnoCrane / TechnoCrane / Technodolly
Kessler – CineDrive
Micronite – Nero
Kuka 
Stäubli
ABB
Yaskawa – Motoman
Moog
Nettmann – Super-G / Stab-C
more…
Rigs are DYNAMICALLY simulates inside Take4D VS.  This is much more advanced than the Inverse Kinematics typically found in 3D applications.  Individual motor or joint limits such as speed and acceleration are taken into consideration. If the shot is outside the physical capabilities of the real rig, Take4D VS creates its own move to match what you have created as closely as possible.
"Concentrate on the design of the shot – the solver will do the rest."